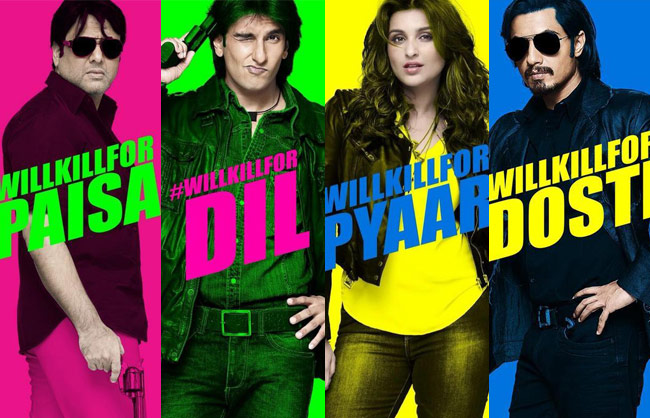 DIRECTOR:  Shaadi Ali
CAST: Govinda, Ranveer singh, Ali Zafar, Parineeti Chopra.
PLOT: The story is set in Delhi, professional shooters Dev (Ranveer Singh) and Tutu (Ali Zafar) work for a local goon Bhaiyaji (Govinda). The story begins with a local goon ( Govinda) picking two orphans from garbage and raising them into professional shooters. Everything was going well with these two until Dev meets Disha (Parineeti Chopra) during a pub brawl. Dev falls for her and starts bunking his work (which is shooting people) and Tutu keeps covering for him. But Bhaiyaji soon discovers the truth and tries his best to bring back his Dev. He succeeds, but only for some time. But this is Yash Raj film, so it has a happy ending.
REVIEW: The first half of the film is very entertaining but deflates considerably in the second half. But while it lasts, Shaad makes sure you're having a good time. The end could have been much better but looks like it was all wrapped up in a rush. It is weird that the shooters kill in the capital, but the police seems nowhere to look out for murders. Their love story is the least interesting part of the film.
Besides all, once again Ranveer Singh steals the show! Ranveer did a good job of playing a street-style goon who is soft at heart and knows where his loyalty lies. Govinda as always did a fab job too as the negative lead. His walk, laughter, expressions and of course dance steps entertained a lot. Ali Zafar is good as the second lead! He effortlessly fits into his character. Parineeti Chopra as always did her part well. She is the perfect choice for the girl who works for rehabilitation of criminals and falls in love with a criminal, unknowingly.
Over all Kill Dil is a good watch! Two hours of pure entertainment with that fun-filled dialogues. You will enjoy this two hour movie!