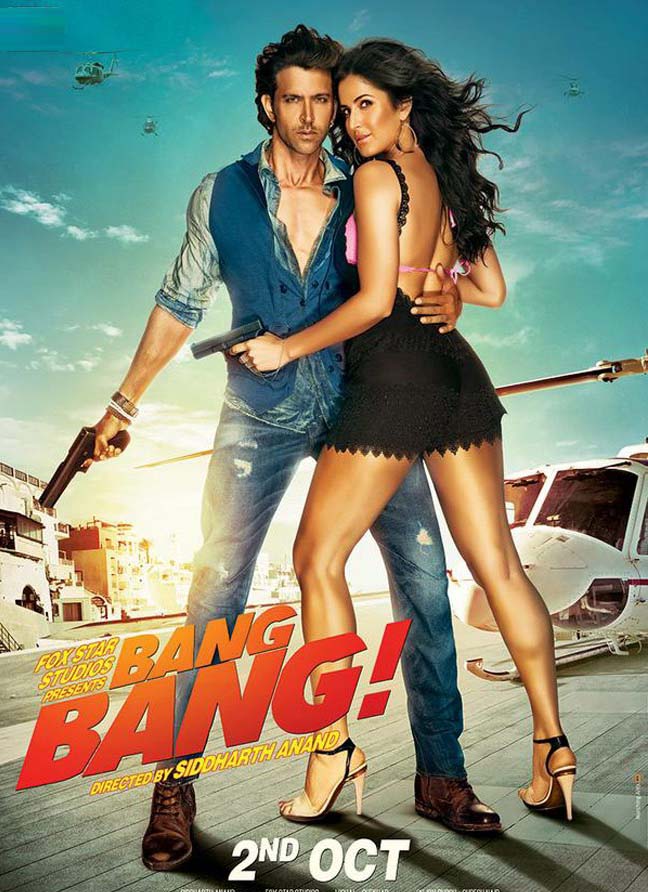 CAST: Hrithik Roshan, Katrina Kaif, Pawan Malhotra, Danny Denzongpa, Javed Jafferi, Jimmy Shergill.
DIRECTOR: Siddharth Anand.
PLOT: The film is the official remake of the hollywood film Knight and Day and featuring Hrithik Roshan  and Katrina Kaif, as Rajveer Nanda and Harleen.
Bang Bang is an action thriller, with a love story woven in, directed by Siddharth Anand. The story begins with the most wanted gangster, Omar Zafar(Danny Denzongpa), escape from MI 6 in London by killing an Indian army Colonel. Then he plots to steal the Kohinoor from the Tower of London as a tool of exchange for his freedom.
REVIEW:
Siddharth Anand's Bang Bang makes more noise and little sense. This desi adaptation of the 2010 Tom Cruise-Cameron Diaz action thriller, Knight And Day, has charm in abundance, primarily because of its effervescent lead pair — Rajveer/Jai ( Hrithik Roshan) and Harleen (Katrina Kaif).
Anand's film has no sense. But it is compensated by breathtaking locales and stylishly choreographed stunts, hummable  music, awesome dance, the best looking couple on screen with proven chemistry.
Director Siddharth Anand, the man who gave us such excruciating films as Tara Rum Pum and Anjaana Anjaani, applies the same pedestrian sensibilities to what could have been a slick enjoyable romp.
The film is weighed down by a teary familiar back-story, and a twist that anyone who's watched even three masala potboilers can predict from a mile away. The blatant product placements are embarrassing; the dialogues so clunky they make you cringe. And yet if there's one reason to watch the film, it's Hrithik. He's charming and charismatic, and he appears to be having a good time. Here's a movie star who actually looks like he could pull off those action scenes for real.
The film then isn't unwatchable, but at 2 hours and 35 minutes, it certainly tests your patience. How many times have you ordered a dish that looks terrific photographed in a menu, but disappoints when it shows up on the table? Bang Bang is that kind of meal.