STEVE JOBS: COFOUNDER OF APPLE COMPUTER
|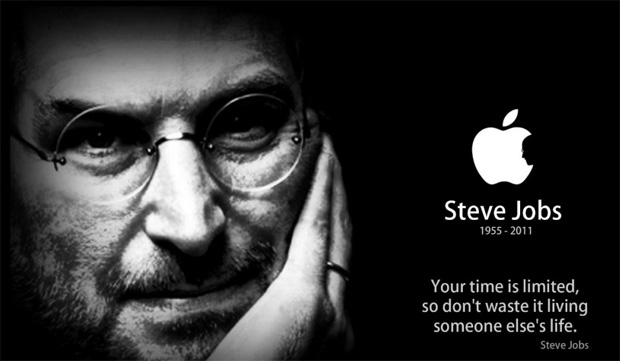 Steven Paul "Steve" Jobs, an American entrepreneur, marketer, and inventor, co-founded Apple Inc. with Steve Wozniak. He is a charismatic and design-driven pioneer of the personal computer revolution recognized by Apple computers. Jobs was also a co-founder and a chief executive of Pixar Animation Studios. Under Jobs' guidance, the company pioneered a series of revolutionary technologies, including the iPhone and iPad. He has been referred to as "legendary", a "futurist" and a "visionary" and has been described as the "Father of the Digital Revolution"  a "master of innovation" "the master evangelist of the digital age" and a "design perfectionist."
BIRTH: February 24, 1955, San Francisco, California, US.
DEATH: October 5, 2011, Palo Alto, California, US.
RESIDENCE: Palo Alto, California, US
OCCUPATION: Co-founder, Chairman, and CEO, Apple Inc.
                            Co-founder and CEO, Pixar
                            Founder and CEO, NeXT Inc.
Board member of: The Walt Disney Company, Apple Inc.
SPOUSE: Laurene Powell
CHILDREN: Lisa Brennan-Jobs, Reed Jobs, Erin Jobs,Eve Jobs
RELATIVES: Mona Simpson (sister)
EARLY LIFE
Steve Jobs was born in San Francisco, California, on February 24, 1955, to two students of University of Wisconsin at Madison, Abdulfattah "John" Jandali and Joanne Carole Schieble, who gave him up for adoption.
He was adopted at birth by Paul Reinhold Jobs and Clara Jobs. Later, when asked about his "adoptive parents", Jobs replied emphatically that Paul and Clara Jobs "were my parents". Paul worked as a mechanic and a carpenter and Clara Jobs had been a payroll clerk for Varian Associates, one of the first high-tech firms in what became known as Silicon Valley.
EDUCATION
At Homestead High School in Cupertino, California, Jobs became friends with Steve Wozniak, a computer and electronics whiz kid, who was also known as "Woz". In 1969, Wozniak started building a little computer board with Fernandez that they named "The Cream Soda Computer".
After high school graduation in 1972, Jobs enrolled at Reed College in Portland, Oregon, an expensive college. Jobs dropped out of college after six months and spent the next 18 months dropping in on creative classes, including a course on calligraphy.
CAREER
In 1972, Steve Wozniak designed his own version of the classic video game Pong and handed it over to Jobs, who then took the game down to Atari, Inc. in Los Gatos, California, which then offered him a job as a technician. Several months later he left Atari to find spiritual enlightenment in India, traveling the continent and experimenting with psychedelic drugs. In 1976, Jobs and Wozniak started their own business, which they named "Apple Computer Company". At first they started off selling circuit boards. In 1976, Wozniak single-handedly invented the Apple I computer and showed it to Jobs, who then formed Apple Computer in the garage of Jobs's parents in order to sell it. Jobs and Wozniak revolutionized the computer industry by democratizing the technology and making the machines smaller, cheaper, intuitive and accessible to everyday consumers. Apple initially marketed the computers for $666.66 each. The Apple I earned the corporation around $774,000. Three years after the release of Apple's second model, the Apple II, the company's sales increased by 700 percent. In 1980, Apple Computer became a publicly traded company, with a market value of $1.2 billion by the end of its very first day of trading. Jobs looked to marketing expert John Sculley of Pepsi-Cola to help fill the role of Apple's president. In 1983, Jobs lured John Sculley away from Pepsi-Cola to serve as Apple's CEO.
RESIGNATION
However, the next several products from Apple suffered significant consumer disappointment and IBM suddenly surpassed Apple in sales. In 1984, Apple released the Macintosh. But despite positive sales and performance superior to IBM's PCs, the Macintosh was still not IBM-compatible. Disappointing sales caused deterioration in Jobs's working relationship with Sculley, which devolved into a power struggle between the two. Apple's board of directors sided with Sculley and removed Jobs from his managerial duties as head of the Macintosh division. Jobs resigned from Apple in 1985.
NeXT COMPUTER
Jobs founded NeXT Inc. in 1985 after his resignation with $7 million. Jobs purchased an animation company from George Lucas in the same year, which later became Pixar Animation Studios. Jobs had a belief in Pixar's potential and initially invested $50 million of his own money in the company. Pixar Studios went on to produce wildly popular animation films such as Toy Story, Finding Nemo and The Incredibles. Pixar's films have netted $4 billion. The studio merged with Walt Disney in 2006, making Steve Jobs Disney's largest shareholder. Upon completion of the merger, Jobs received 7% of Disney shares, and joined the Board of Directors as the largest individual shareholder.
COME BACK IN APPLE
In 1996, Apple bought NeXT for $427 million bringing Jobs back to the company as CEO. In March 1998, to concentrate Apple's efforts on returning to profitability, Jobs terminated a number of projects, such as Newton, Cyberdog, and OpenDoc. In the coming months, many employees developed a fear of encountering Jobs while riding in the elevator, "afraid that they might not have a job when the doors opened". Jobs also changed the licensing program for Macintosh clones, making it too costly for the manufacturers to continue making machines. With a new management team, altered stock options and a self-imposed annual salary of $1 a year, Jobs put Apple back on track. His ingenious products such as the iMac, effective branding campaigns and stylish designs caught the attention of consumers once again. On June 29, 2007, Apple entered the cellular phone business with the introduction of the iPhone, a multi-touch display cell phone.
Although Jobs earned only $1 a year as CEO of Apple, Jobs held 5.426 million Apple shares worth $2.1 billion, as well as 138 million shares in Disney worth $4.4 billion. Forbes estimated his net wealth at $8.3 billion in 2010, making him the 42nd-wealthiest American.
PHILANTHROPY
Under Jobs, Apple signed to participate in the Product Red program, producing red versions of devices to give profits from sales to charity. Apple has gone on to become the largest contributor to the charity since its initial involvement with it. Through its sales, Apple has been the largest contributor to Product Red's gift to the Global Fund, which fights AIDS, tuberculosis and malaria, according to Bono.
DEATH
Jobs died at his Palo Alto, California, home around on October 5, 2011, due to respiratory arrest caused by complications from a relapse of his previously treated islet-cell neuroendocrine pancreatic cancer. He had lost consciousness the day before, and died with his wife, children, and sisters at his side. Steve's final words before he lost consciousness were: OH WOW. OH WOW. OH WOW."
Both Apple and Microsoft flew their flags at half-staff throughout their respective headquarters and campuses. Bob Iger ordered all Disney properties, including Walt Disney World and Disneyland, to fly their flags at half-staff from October 6 to 12, 2011.
HONOURS AND AWARDS
National Medal of Technology in 1985
A Jefferson Award for Public Service in the category "Greatest Public Service by an Individual 35 Years or Under" (also known as the Samuel S. Beard Award) in 1987
The most powerful person in business by Fortune magazine on November 27, 2007.
Jobs was named the CEO of the decade by Fortune magazine on November 5, 2009.
In November 2010, Jobs was ranked No.17 on Forbes: The World's Most Powerful People.
On December 21, 2011, Graphisoft company in Budapest presented the world's first bronze statue of Steve Jobs.
On February 12, 2012, Jobs was posthumously awarded the Grammy Trustees Award.
Two films, Disney's John Carter and Pixar's Brave, are dedicated to Jobs.
BOOKS
The Bite in the Apple (2013) by Chrisann Brennan.
iCon: Steve Jobs (2005), by Jeffrey S. Young & William L. Simon
Inside Apple (2012), a book by Adam Lashinsky .
Steve Jobs (2011), by Walter Isaacson.
The Little Kingdom (1984) by Michael Moritz.
The Man Who Thought Different (2009) by Karen Blumenthal
The Second Coming of Steve Jobs (2001), by Alan Deutschman
The Steve Jobs Way: iLeadership for a New Generation (2011), by Jay Elliot.
The Zen of Steve Jobs (2012) written by Caleb Melby
How to Think Like Steve Jobs (2013) by Daniel Smith.
DOCUMENTARY FILM
iGenius: How Steve Jobs Changed the World – a 2011 Discovery Channel documentary .
The Machine That Changed the World – Part 3 of this 1992 five-part documentary, called The Paperback Computer, prominently featured Jobs and his role in the early days of Apple.
Steve Jobs: Billion Dollar Hippie," a 2011 BBC Documentary.
Steve Jobs: One Last Thing – a 2011 PBS documentary
Steve Jobs: The Lost Interview, released in 2012 includes the full 70 minute interview Jobs gave in 1995 for the documentary, Triumph of the Nerds.
Mobilize: A Film About Cell Phone Radiation, a 2014 documentary, features Jobs in archived interviews.
SHORT FILM
Golden Dreams, a 2001 short film about the history of California show at Disney California Adventure Park. Steve Jobs is portrayed by Mark Neveldine.
FEATURE FILM
Untitled future film on Jobs – A Sony Pictures film that will be directed by Danny Boyle with a screenplay by Aaron Sorkin.
Jobs – a 2013 independent film by Joshua Michael Stern. Jobs is portrayed by Ashton Kutcher.
iSteve, a 2013 parody film produced by Funny Or Die starring Justin Long as Jobs.
Pirates of Silicon Valley – a 1999 TNT film which chronicles the rise of Apple and Microsoft from 1971 to 1997. Jobs is portrayed by Noah Wyle.
THEATRE
The Agony and Ecstasy of Steve Jobs – The Public Theater, New York City, 2012, starring Mike Daise.