RATAN TATA- Indian Businessman
|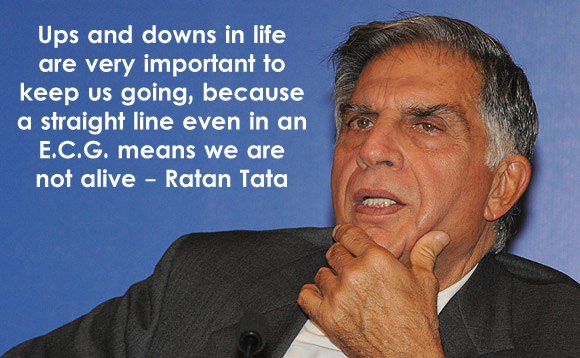 Ratan Tata, full name Ratan Naval Tata, the present Chairman Emeritus of Tata Sons.
BORN: 28 December, 1937 (age 76), Mumbai, India.
RESIDENCE: Colaba, Mumbai.
CHILDHOOD:
Ratan Tata was born on December 28, 1937 in Mumbai, India in one of the richest families in the country. He is the son of Naval Tata and the great grandson of Jamsetji Tata, the founder of Tata Group.
Ratan Tata's parents Naval and Sonoo separated in the mid-1940 when he was ten and his younger brother, Jimmy, was seven year old. He and his brother were raised by their grandmother, Lady Navajbai.
EDUCATION:
Ratan Tata began his schooling in Mumbai at the Campion School and finished his secondary education at the Cathedral and John Cannon School followed by studies in architecture and structural engineering at Cornell University in 1962.
CAREER:
Ratan Tata, after completing his higher studies returned to India and joined the Tata Group in 1962(same year) at Jamshedpur to work on the shop floor at Tata Steel. In 1971, Ratan Tata became Director-in-charge of the National Radio and Electronics Company Limited(NELCO), and gave its statistics an upward turn from 2% of market share to 25% but the economic recession and union strikes prevented his vision from taking hold.
JRD Tata soon declared Ratan Tata his successor in 1981 and Ratan had to face criticism. After ten years of his entry into the Tata industries, he became the Chairman of the Tata Group and under his direction, the company reached absolutely new heights and went through several different entrepreneurial ventures.
Under his stewardship, Tata Tea acquired Tetly, Tata Motors acquired Jaguar Land Rover and Tata Steel acquired Corus, which have turned Tata from largely India-centric company into a global business, with 65% revenues coming from abroad.
His major releases have been Indica and Nano.
HONOURS AND AWARDS:
Padma bhushan in 2000
Padma Vibhushan in 2008
Third highest civilian honours awarded by Government of India
Honorary Doctor of Science
Honorary Doctor of Law
Honorary Doctor of Technology
Honorary Doctor of Business
Honoray Knight Grand Cross of the Order of the British Empire
Sayaji Ratna Award
Business Leader of the Year 2010
RATAN TATA AS A PHILANTHROPIST:
Ratan thinks that 'Philanthropy' can be seen in different perspectives, earlier 'philanthropy' was to develop institutions, charitable hospitals etc. whereas, now it's more about nation building.