Indira Gandhi: Iron Lady of India
|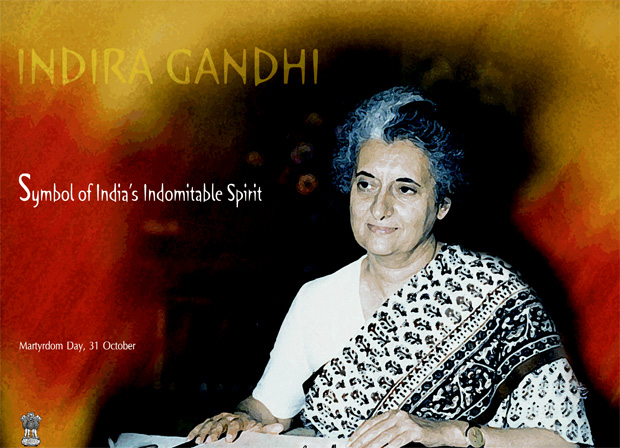 Indira Gandhi was the third Prime Minister of India and first woman Prime Minister of India. She served India from 1966 till 1984. She was also known as "Iron Lady of India".
Full Name:  Indira Priyadarshini Gandhi
Born:           19 November 1917, Allahabad
Parents:       Jawaharlal Nehru, Kamala Nehru
Spouse:        Feroz Gandhi
Children:      Rajiv Gandhi and Sanjay Gandhi
Education:   University of Oxford, Visva-Bharti University
Awards:        Bharat Ratna, Jawaharlal Nehru Awards and Lenin peace Prize
Died:             31 October 1984, New Delhi
Indira Gandhi was born in the politically influential Nehru family and she grabbed political atmosphere. She was the India's first female Prime Minister. Her father was the first Prime Minister of India.
She once said
    "My father was a statesman, I'm a political woman. My father was a saint, I'm not."
EDUCATION
Indira Gandhi passed her Matric from Pune Univesity. Indira Gandhi took her education in Swiss school and at Somerville College, Oxford. After some time she became ill and she returned to India without completing her degree.
CAREER
Indira Gandhi earned a formidable reputation across the globe as a statesman. She learned the tricks of the trade quite early in life and she soon became the central figure of the Indian National Congress Party in 1960.
After the death of Lal Bahadur Shastri in 1966, she was appointed as the Prime Minister.
INDIRA GANDHI'S WORK AS PRIME MINISTER
Gandhi brought about a remarkable change in India's economic, national, international and political front.
She nationalized 14 major commercial banks.
Gandhi nationalized oil companies after 1971 war and formed Indian oil corporation (IOC), The Hindustan Petroleum Corporation (HPCL), The Bharat Petroleum Corporation (BPCL).
Green Revolution was also started by Gandhi to protect the agricultural sector and give them the source of employment.
In 1971, Indira Gandhi signed the Shimla Agreement to resolve the dispute of Kashmir by peaceful means. In her tenure, a new and independent nation of Bangladesh was created.
REMOVAL, ARREST AND RE-ELECTED
In 1977, high court found Indira Gandhi guilty of her unlawful infration during the 1971 election and therefore called her for resignation. After this allegation, Gandhi requested president to call for a "State of emergency". President Fakhruddin Ali Ahmed declared a state of emergency on 25 June 1975. Under this Emergency she banned the supply of newspapers and also banned the telecast of all TV channels. She also imprisoned all the opposition leaders.
Therefore, Gandhi lost this election and later imprisoned.
In 1980 she again won by a landslide majority. In the same year her son Sanjay Gandhi died in a plane crash in New Delhi. After Sanjay's death Gandhi prepared Rajiv Gandhi for leadership.
OPERATION BLUE STAR
In September 1981, a Sikh militant group demanding "Khalistan" entered in to Golden Temple Amritsar. Gandhi ordered some 70000 armed soldiers to clear the holy premises of worship, this resulted the death of more than 450 devotees. This operation is known as Operation Blue Star.
After this operation many Sikh officers resigned from different post and also returned their awards.
ASSASSINATION
On 31 October 1984, two of her trusted bodyguards Satwant Singh and Beant Singh assassinated Indira Gandhi to take the revenge of the Golden Temple assault.