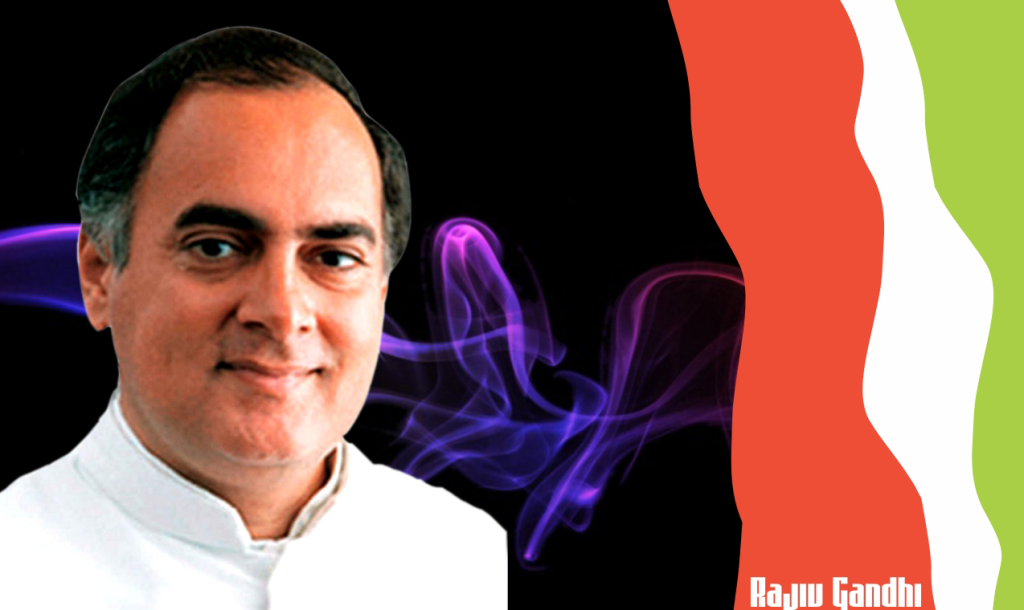 Rajiv Gandhi, full name Rajiv Ratna Gandhi was the seventh Prime Minister of India (31st October 1984-2nd December 1989).
Born:  
August 20, 1944, Mumbai, India
Died: 
May 21, 1991 (aged 46), Sriperumbudur, Tamil Nadu, India
Education
He did Schooling from Doon School, Dehradun, India. Then he completed his education from Imperial College, University of London and Trinity College, University of Cambridge, Britain in 1965.
Childhood
Rajiv Gandhi was born in famous and prestigious political family. His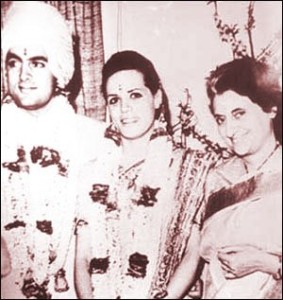 mother Indira Gandhi and father Feroze Gandhi lived separately and Rajiv Gandhi's childhood was raised in his grandfather's house where his mother lived. His grandfather Jawahar Lal Nehru became the first Prime Minister of India after a prolonged struggle of freedom in 1947. His mother Indira Gandhi was the first women Prime Minister of India.
At Cambridge University, Rajiv Gandhi fell in love with an Italian student 'Sonia Maino' and they got married in 1969.
Career Direction
After returning to India, he acquired a licence of commercial airline pilot and started his working in Indian Airlines in 1968. His younger brother Sanjay Gandhi (1946-1980) was active in politics with his mother Indira Gandhi but Rajiv Gandhi always stayed out of politics. But after the death of Sanjay Gandhi in airplane crash in 1980, Rajiv Gandhi entered into politics and he won his first Lok Sabha elections in 1981 from Amethi- the constituency of his brother. Soon he became the President of Indian Youth Congress.
When Prime Minister Indira Gandhi was assassinated by her bodyguards in 1984, Rajiv Gandhi was sworn in as Prime Minister of India within hours of his mother's assassination. In December 1984, in General Lok Sabha elections, Congress garnered 80 percent of the seats in the lower house and achieved its greatest victory since independence.
After that, Rajiv Gandhi became so popular that every eye in India had a dream of secular and corruption free India.
Works Done
He increased government support for science and technology and associated industries, and reduced import quotas, taxes and tariffs on technology-based industries, especially computers, airlines, defence and telecommunications.
In 1986, he announced a National Policy on Education to modernise and expand higher education programs across India.
He founded the Jawahar Navodaya Vidyalaya System in 1986 which is a Central government based institution that concentrates on the upliftment of the rural section of the society providing them free residential education from 6th till 12 grade.
His efforts created MTNL in 1986, and his public call offices, better known as PCOs, helped spread telephones in rural areas.
He introduced measures significantly reducing the Licence Raj, in post-1990 period, allowing businesses and individuals to purchase capital, consumer goods and import without bureaucratic restrictions.
He improved bilateral relations with the United States – long strained owing to Indira's socialism and friendship with the USSR — and expanded economic and scientific cooperation.
Rajiv authorised an extensive police and army campaign to contain terrorism in Punjab.
Controversies
The Indo-Sri Lanka Peace Accord was signed by Rajiv Gandhi and the Sri Lankan President J. R. Jayewardene, in Colombo on 29 July 1987. Sri Lankan Prime Minister Ranasinghe Premadasa opposed the Indo-Sri Lanka Peace Accord, but accepted it due to pressure from then President Junius Richard Jayewardene. In January 1989 Premadasa was elected President and on a platform that promised that the Indian Peace Keeping Force (IPKF) would leave within three months. Rajiv Gandhi refused to withdraw the IPKF, believing that the only way to end the civil war was to politically force Premadasa and militarily force the LTTE to accept the accord. In December 1989, V.P. Singh was elected Prime Minister and completed the pullout. The IPKF operation killed over 1100 Indian soldiers, 5000 Tamil civilians and cost over 100 billion.
Political Profile
| | |
| --- | --- |
| Profile | Tenure |
| Prime Minister of India                | 1984-1989 |
| Minister of External Affairs | 1984-1985 |
| Minister of Defence | 1985-1987 |
| Minister of Finance | 1987 |
| Minister of External Affairs | 1987-1988 |
Assassination
Rajiv Gandhi's had a public meeting at Sriperumbudur on 21 May 1991, in a village approximately 40 km (30 miles) from Chennai, Tamil Nadu, campaigning for the Sriperumbudur Lok Sabha Congress candidate.
At 10:10 pm, a woman (later identified as Thenmozhi Rajaratnam) approached Rajiv Gandhi in public and greeted him. She then bent down to touch his feet and detonated a belt laden with 700 grams of RDX explosives tucked under her dress. The explosion killed Rajiv Gandhi, his assassin and at least 25 other people. The assassination was caught on film through the lens of a local photographer, whose camera and film were found at the site. The cameraman died in the blast but the camera remained intact. Rajiv Gandhi's mutilated body was airlifted to the All India Institute of Medical Sciences in New Delhi for post-mortem, reconstruction and embalming.
A state funeral was held for Rajiv Gandhi on 24 May 1991. His funeral was telecast live and was attended by dignitaries from over 60 countries. He was cremated on the banks of the river Yamuna, near the samadhis of his mother, brother, grandfather and Mahatma Gandhi. Today, the site where he was cremated is known as Vir Bhumi.
Rajiv Gandhi said:
"I am young and I too have a dream. I dream of an India, strong, independent, self-reliant and in the forefront of the front ranks of the nations of the world in the service of mankind."