TEN COMMON MAKEUP MISTAKES ONE SHOULD AVOID
|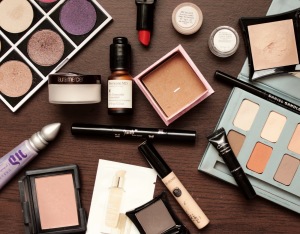 Makeup is intended to enhance our natural beauty. Every woman wants to look beautiful, wants to be complemented, but sometimes instead of looking beautiful they got messed up with wrong technique of applying makeup. Ladies do such makeup mistakes that can make them look like an evil vampire or panda. There are so many shades of lipsticks and shadows available in the market, so many different brands, so many new beauty tools but it hard to go for the right foundation, right lipstick shade, eyeliner and much more. But even for the most dedicated of makeup enthusiasts it is liable to make a mistake here and there when it comes to application and product choices. Applying make-up can be a double edge sword – apply it well and it can make you look fresh and feel confident and on the other side it makes everything mess.
Here are some common mistakes you're probably making and should be avoided.
TOO HEAVY FOUNDATION
Overdoing with foundation can make you look older then you actually are. The problem with heavy foundations is that they can sit in lines and wrinkles.
 "With this season's skin the fashion is looking like you've got nothing on your skin,'' says Rae Morris, one of Australia's most influential make-up artists.
''Having your skin perfectly even in tone is the aim, if it's not even in tone it can be more ageing."
APPLYING LIQUID FOUNDATION AS EYE SHADOW BASE
The next mistake is to apply foundation as eye shadow base. Foundation is not meant for this purpose. Rather it is more likely to crease and can make your eyes look tired instead of pretty.
DARK LIPLINER AND LIGHT LIPSTICK
This is the most noticeable mistake I have ever seen of applying dark lipliner and light lipstick. It is really a bad idea to do such makeup.
This is one look that should have stayed in the 80's.
If you use dark liner, like a red or berry shade, fill in your mouth completely, and then top with clear gloss, not a light lipstick.
TOO MUCH BLUSH
Nothing will make you look more like a crazy clown than too much blush.
''Cheeks this season there's not a lot of blush,'' says Rae Morris.
Always keep in mind your skin tone – olive skin looks best with warmer tones, fair skin with pink or rosy tones and dark skin with plum or berry. When applied correctly, blush can brighten any complexion and make you look years younger.
APPLYING FOUNDATION ON TOP OF DRY SKIN
No matter how creamy your foundation is, it's not going to hide dryness or flakiness. It will only exaggerate it making your skin look old and tired. Bass suggests exfoliating regularly and moisturizing day and night. For extra dry skin, use a moisturizing primer before applying foundation.
USING BLUSH AS AN EYE SHADOW
Many makeup artists advise to sweep your blush color across your lids and use it as your eye shadow. But in real life rose, red or peachy colors, usually, don't look flattering on our eyes. So, avoid using your blush as an eye shadow.
UNDERSTANDING THE SHAPE AND THE SIZE OF YOUR EYES
When applying eyeliner you need to keep in mind the natural shape and size of your eyes. Too thick eyeliner can make your eyes look smaller. If you have small eyes you are recommended to draw a thin eyeliner line.
SHADING YOUR BROWS TOO DARK
Using a brow pencil that's as dark as your natural brow will make it look too heavy or intense. Use a shade lighter or use a less intense touch to fill out your brows to give it natural look.
CURLING YOUR LASHES LAST
It is advised to apply mascara and wait for it to dry then re-curl after (carefully!), but if the mascara is still wet or tacky all you can expect are stuck together, sticky lashes.
APPLYING MATTE LIPSTICK ON DRY LIPS:
Matte lipsticks are really on-trend but your lips need to be in the proper nourished condition to wear them. Exfoliate your lips every day to remove dead skin and follow up with a lip balm for hydration.