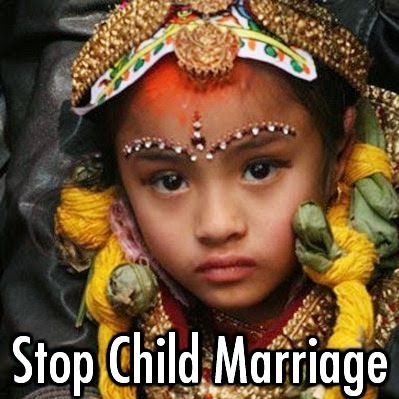 Mujhko bhi padna hai,
aage badna hai,
Meri bhi hain khwahishein,
mujhko bhi jeena hai.
Child Marriage – marriage before 18 yrs of age.
 This social evil is still alive in our society since the 19th century and over 700 million women alive today worldwide were married at their younger age. The most suffering person of this evil practice is the girl of a poor family in rural areas. Some questions arise in our mind today. How this evil practice originated? Why is it still alive when our literacy rate is increasing day by day? Which are the sectors or the places where this is still followed? What government is doing to stop such practices? What are the government acts? What can we do to get out this practice from our society?
We all agree with the fact that this is an evil practice and must be stopped right away. But how it has been originated.
It originated about 1000 years ago when Mughals invaded most states of India. It prompted Hindu communities to marry their daughters at an early age to prevent them from getting raped from Mughal invaders.
Now, even after so many years of freedom, people have not overcome of their old thinking instead of being so educated especially in rural areas.
The birth of a girl child is assumed to be a curse and if it happens, then they are married early for their security. This is all due to
They don't realise the capability of a girl. She can also be a doctor, a lawyer, an engineer, a pilot and many more.
The increasing ratio of rapes in our society. Instead of so strict laws by the government, a girl is not safe inside or outside her home.
Dowry system which forces parents to get rid of their responsibility as soon as possible. This system forces parents to think that a girl birth means an extra liability and more money is required for her marriage which is known as dowry. On dowry system, we will talk in detail in our next article.
Their old thinking, prevailing curses and insecure feeling for the girl child are making the curse of Child Marriage still alive in our society. But the one who is suffering is THE GIRL.
Some people can ask How? They get a new family, what is there to suffer. But there is. I am trying to brief them in following points.
The girl is married in the age of study means she remains illiterate. She can also achieve a good professional career but we have hindered her progress and so our country progress too. Have we forgotten Kalpna Chawla, Indira Gandhi, Kiran Bedi etc. These are also girls and they have made our India proud.
The early birth from a very young and premature girl.
Girls who are married at an early age are observed to face more domestic violence because they remain dependent for their whole lives and they cannot protest it.
No marriage certificate can be issued in such marriages
If the girl child is married to old age man, she faces a higher risk of contracting HIV.
The only key to get rid of this evil is Education. Our government has also started many programmes and scholarships for girls to provide an opportunity to them to study.
Soch badlo, aage badne do
Betiyan bhi aadhar hain
Jiyo aur inhe bhi jeene do.
Babul ke ghar ki chulbulahat hain
Maa ke aaanchal ki sugbugahat hain
Inmein bhi udne ki chahat hai
Tum udo aur inhein bhi pankh do
Jiyo aur inhe bhi jeene do.
This evil practice is not only practised in India but also abroad with countries like Bangladesh, Chad, Mali, Central African Republic, India, Guinea, Ethiopia, Burkina Faso and Nepal.
The analytic condition due to child marriage in India and the abroad can be viewed in figures in the following link.
Child marriage has not only affected the childhood of a child but the society as a whole. It has a strong intellectual, physical and mental pressure on the growth of a child either it is a boy or a girl. Early age mother not only impacts the health of the girl but also translates to mental weakness. Girls are usually considered as a burden for the father who has to collect more money to get the girl settled in her married life. But early marriage is the settlement? Rather than invest in the education of girls, she may turn out to be your pride.
Recent News:
With 1 in 4 cases, Tamil Nadu tops country in child marriages
No end to child marriages despite administration intervention
India home to one in every three child brides in world: UN
Government finalising action plan to curb child marriages
Why Rekha from Jodhpur is a bonafide braveheart