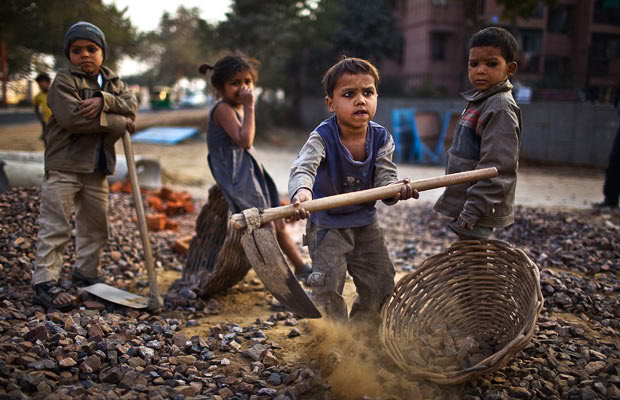 Save the childhood – stop child labour. A child engaged in work at a little age when observes freedom celebrations comes up with a question. Do we have an answer?
Kya hum azaad hain ?

Kya hum sach mein azaad hain ?
We all have recently celebrated Independence Day of India on 15th August. Why? Have we got freedom when our children are still slaves? The truth is:  Only the ruler is changed. Now Indians are ruling Indian children. What a fate of India! It's really a shame.  Are we waiting for another Mahatma Gandhi who will free India from the child slavery?
Child labour is that social curse that takes the childhood of a child. We have seen the naughtiness of our children at our home. At each movement of their childhood we have clapped. Just think there are some children whose naughtiness is lost, their childhood is ruined and is engaged in work. Every child is a future of our country and the only work that should be done by a child is 'The Study' nothing else. But situation is totally different.
This social evil is still prevailing in our country. We all must have seen the children from 5 yrs of age
Running at the red lights behind the vehicles selling some articles.
Walking on the streets with fruits, pens and other things to sale.
Sitting in the corners with the shoe polish.
Collecting the garbage from the street dustbin areas.
Working in the construction work of buildings.
Helping in shops.
Working in tea counters, juice corners etc.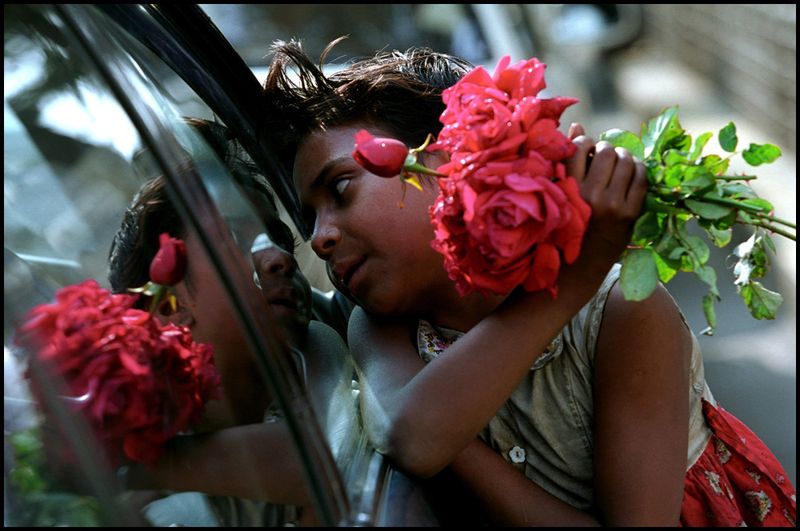 This is all that we used to see in daily life. The children are employed in more areas listed below.
About 60% of child labour occurs in agriculture, fishing, hunting, and forestry.
Nearly 7-8% of children are laboured in manufacturing sector.
Domestic child labour starts at an early age of 5 yrs. Domestic child labourers can be victims of physical, emotional, and sometimes sexual abuse. About 7% of children are found in domestic services.
The services sector which consists of trade, restaurants and hotels, transport, communications etc, holds 25 % of child labourers.
The above figures are taken from ILO (International Labour Organisation) Global Estimates 2012 (2013).
Not only in India, Child labour is prevailing around the globe. Of an estimated 215 million child labourers: approximately 114 million (53%) are in Asia and the Pacific; 14 million (7%) live in Latin America; and 65 million (30%) live in sub-Saharan Africa.
Poverty is the main cause of child labour. Privatization of basic services has raised the inflation to its highest rate. This also accounts to the cause of child to work. The poor parents who are not able to fulfill the basic needs of their family send their children to work outside. Now days, people from rural and backward areas are sending their children to urban areas for work. These children are often employed for domestic works or at the shops. The child labour is not only a physical abuse but also an emotional abuse.
Some of the bad groups are also active in our society who kidnap children and force them to work and earn money.
Just wake up and show courage to get rid of this evil. Now the question is what can we do? Every help can make a difference.
Don't employ children as domestic labourers.
Don't avail the services of the restaurants, dhabas, tea stalls, shops that employ children.
Discourage your friends and relatives to employ child as a labour.
If you get to know about someone who make children work, report it to the authorities.
Some authorities or organizations who are working on this are listed below.
 BBA (Bachpan Bachao Andolan)
L- 6, Kalkaji,
New Delhi- 110019, India
Phone:  +91 11 49211111, 26224899
Fax: +91 11 49211138
Email:  info@bba.org.in
CRY – Child Rights and You
632, Lane No.3, Westend Marg,
Near Saket Metro Station, Saiyad-ul-Ajaib
New Delhi – 110 030.
Phone:  +91 11 29533451/52/53
Fax: +91 11 29533732
Email: cryinfo.del@crymail.org
Save the Children
Bal Raksha Bharat
3rd Floor, Vardhaman Trade Centre,
9-10-11 Nehru Place,
New Delhi – 110019, India
Phone: +91 11 4229 4990
Fax: + 91 11 4229 4990
Email: info@savethechildren.in
World Vision India
Lajpat Nagar-II
New Delhi – 110024
India
Phone: +91 11 6831168
Recent news
The city police of Jaipur rescued 66 children aged between 8 and 16 years from five bangle-manufacturing units in Chandpole on Saturday.
Thirty-four child labourers were rescued in two separate raids in North and Central Delhi in a joint operation of Labour Department, Delhi Police and Bachpan Bachao Andolan (BBA) on Thursday. 
This is the time when we can serve our country. If you cannot protest it just make a chain. Aware other people, your friends, relatives and knowns to discourage this practice of child labour. Every person will make the difference.  That person can be YOU too. I have started the chain and you have to carry it forward if you too see the future of our country in the eyes of these children, if you also see the pain on their faces, if you also listen the words whispering in your ears- SAVE THE CHILDHOOD.
Mujhse kaam kyu karwate ho
mera bachpan kahan le jate ho
Kya de paoge wapas mujhko
Wo khilkhilake hasna mera
Wo gubbare ki zid karna mera
Mere nanhe haathon mein
Kitaabein achchi lagti hain
Tum Ye kya thama jate ho
Mujhse kaam kyu karwate ho
Mera bachpan kahan le jate ho