Firing Resumes in Evening, Pakistan Rangers Target Villages, Border Posts in Jammu, Kathua
|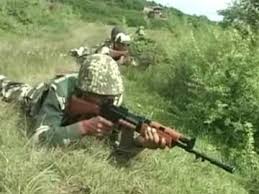 JAMMU/NEW DELHI: 
After a few hours' lull, Pakistan resumed firing on the border villages and military posts near the International Border in Jammu and Kashmir on Thursday evening. Eight people have died in the firing so far. Over 60 have been injured. The firing overnight and in the morning had targeted 60 Indian posts and 130 villages.
Here are the latest developments in this story:
Around 7 pm, the Pakistan Rangers reopened fire, using mortars and automatic weapons to target the RS Pura sector of Jammu and the Hirnagar sector of Kathua, reported Indo-Asian News Service. The Border Security Force retaliated aggressively. The firing is still on.
Most villages along the International Border in Jammu, Samba and Kathua districts have been evacuated since the shelling started on October 6. More than 20,000 villagers have fled their homes.
Sources say Pakistan used mobile mortars, or mortars mounted on armoured personnel carriers, which allow troops to fire from one location and move quickly to the next.
India has warned Pakistan that it is not afraid of escalating fire and the forces have been given a free hand to deal with the situation. Sources in the government said PM Modi has indicted "broad guidelines about not succumbing to any blackmail and responding appropriately".
India has also told Pakistan that there can be no flag meetings until all firing — across the International Border and the 700-km Line of Control – stops.
Reiterating his government's tough stand, Prime Minister Narendra Modi said, "Today, when bullets are being fired on the border, it is the enemy that is screaming. The enemy has realised that times have changed."
"If Pakistan persists with this adventurism, our forces will make cost of this adventurism unaffordable for it," said Defence Minister Arun Jaitley.
Union Home Minister Rajnath Singh said the defence forces were giving a "befitting" reply to the Pakistani onslaught. "I want to assure the people that we will not let down our country," he said.
Hostilities spiked on Monday when five villagers were killed and 34 injured in Arnia in one of the worst violations of the 2003 ceasefire agreement by Pakistan. On Tuesday, two women died and 20 people were injured in firing through the night.
India has accused Pakistan of firing to distract its forces and help militants infiltrate into Kashmir. Indian army sources tell NDTV they believe nearly 700 militants are waiting to cross into the Kashmir Valley from across the border.
Copyright NDTV News