Dengue Cases in Delhi Reach 120
|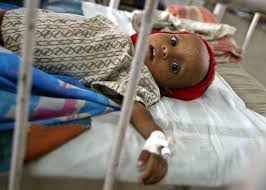 New Delhi: The total number of dengue cases in the national capital this year has crossed the 100 mark, with an increase of over 20 per cent in the last week alone.
A total of 120 cases had been reported in Delhi till October 4, while the figure stood at 98 till September 27, according to a report released by South Delhi Municipal Corporation on Tuesday.
While figures for various corporations in Delhi are – 21 (north corporation), 48 (south corporation) and 19 (east corporation), 19 cases were reported from regions in Delhi outside the jurisdiction of the three municipal corporations and 13 from neighbouring states, the report said.
So far the vector-borne disease has claimed just one victim, Rishi Qaddafi, an eight-year-old boy hailing from Srinagar who resided in south Delhi. He died of dengue on Friday at the Sir Ganga Ram Hospital.
Over 5,500 dengue cases and six deaths were registered in the national capital last year, according to SDMC, which compiles report for vector-borne diseases in the city.
According to a recent report released by North Delhi Municipal Corporation, dengue mosquitoes have been found breeding at various institutions this year, including six cases reported at Lok Nayak Jaiprakash Hospital and three at the headquarters of North Delhi Municipal Corporation itself.
DDA, Delhi Technical University and DTC depot are among several institutions in the national capital to be penalised for failing to check breeding of dengue mosquitoes on their premises.
Delhi had witnessed a large number of dengue cases in 2010, with over 6,200 cases. In 2009, 1,153 cases were registered, over 1,300 cases in 2008, 1,131 cases in 2011 and 2,093 cases in 2012.
The decline in the number of cases this year has been attributed to delayed rains and preventive drive undertaken by the civic bodies much before the onset of monsoon.
Civic bodies are continuing with preventive measures like fumigation, checking of breeding areas and awareness campaigns to control dengue menace.
According to the report, 1,42,285 households were found positive for mosquito breeding, while legal notices were served to over 1,01,732 for mosquitogenic conditions. Over 11,000 prosecutions were also launched during the same period.
Meanwhile, 56 cases of malaria have also been recorded in the city till October 4.
Copyright @NDTV News