British Airways Gives Massive Discount on Mumbai-London Ticket
|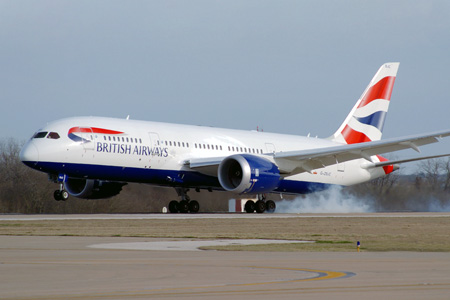 New Delhi: British Airways announced a flash one-day sale today, offering massive discount of up to 90 per cent on return tickets between Mumbai and London to commemorate nine decades of its India operations.
Under the offer, the lowest-priced Mumbai-London return ticket would start at Rs. 40,252 for economy travel from October 1-31, this year, the airline said in a statement.
"We, at British Airways, are pleased to introduce this once-in-a-lifetime offer for our customers from Mumbai as part of our 90 years' anniversary celebration in the market," Christopher Fordyce, BA's regional commercial manager (South Asia), told PTI..
He said this one-day offer was not "just another flash sale" but meant only to commemorate the 90th anniversary.
Asked whether several foreign airlines like Lufthansa, Qatar Airways and Emirates were offering to attract Indian customers due to excess capacity, Mr Fordyce said such offers were a regular feature in the aviation market and not generally driven by excess capacity.
"It is a fight for the market….not too much for additional capacity," he said, adding that this was an offer for "our loyal customers".
The flash sale came weeks after the airline came out with one of the biggest sale offers of up to 50 per cent on flights from India to select destinations in the UK, the USA, Europe, Latin America, Caribbean and London. This earlier offer is valid till September 30.
Asked whether Air India joining Star Alliance and Jet Airways-Etihad deal would put pressure on British Airways, Mr Fordyce said more competition was better for the industry as well as the customers too.
Maintaining that India was a growing aviation market, the airline's top official said, "We want to let people understand why we have been flying here for 90 years.
"We have had a long, magnificent journey since our first flight to India–offering the very best in comfort and luxury and will continue to seek inspiration from our original, historic ethos."
To a question on whether British Airways would want to enhance its flights to Mumbai from where its competitor Virgin Atlantic was reportedly withdrawing its flight, he said Mumbai was "one of the biggest markets" for his airline.
There has been a profitable growth in this market and "we will invest selectively", he said.
He replied in the negative on whether the British carrier would want to introduce its superjumbo Airbus A-380 on the India routes.
"We don't have any plans to bring it to India. We already operate double dailies from Mumbai and Delhi," Fordyce said.
British Airways currently operates 48 flights a week from London Heathrow to Delhi, Mumbai, Chennai, Bangalore and Hyderabad.
@NDTV News