ANDROID 5.0 LOLLIPOP: WHAT'S NEW
|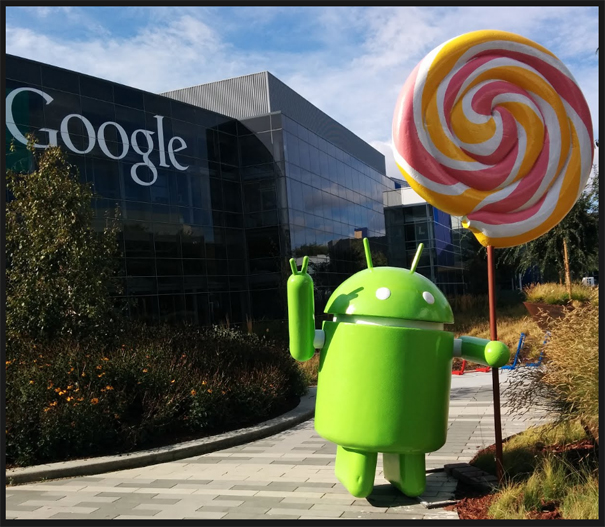 The moment has arrived for which we were eagerly waiting for months. Google has just revealed the latest version of Android, Android 5.0 Lollipop in October 2014.
The newest version is loaded with tons of new and better features.
Here are some of its amazing new features.
MATERIAL DESIGN
It is the most obvious new feature, offering you fluid, purposeful motion which makes content response to your touch in an intuitive way. Its responsive, natural motion, realistic lightning and shadows make it easier to navigate your device.
As explained by Google, it is a bold, colourful and responsive UI design for consistent, intuitive experiences across all your devices. Its vivid new colours, typography, and edge-to-edge imagery help to focus your attention.
BATTERY
Google has also added a new battery saver feature which helps to extend device use by up to 90 minutes. Android 5.0 Lollipop will also show the estimated time before you need to charge again.
SECURITY
Android 5.0 Lollipop comes up with an improved security to keep your stuff safe and sound.
Google says "new devices come with encryption automatically turned on to help protect data on lost or stolen devices. SELinux enforcing for all applications means even better protection against vulnerabilities and malware
Use Android Smart Lock to secure your phone or tablet by pairing it with a trusted device like your wearable or even your car."
DEVICE SHARING
Google has finally introduced device sharing feature that will help user to share its Android 5.0 Lollipop device with their family members, without letting them access to personal stuffs. Android 5.0 Lollipop features a guest user mode with custom options for access, as well as screen pinning that makes user access just that content without messing with your other stuff. It also allows you to access messages, photos, calling anyone etc. by simply logging into another Android phone running Lollipop in case you forgot your phone.
NOTIFICATION
Google Android 5.0 Lollipop displays notifications on the lock screen and you can respond to messages directly from your lock screen. It enables you to hide sensitive content for these notifications.
Android 5.0 Lollipop features Priority mode via your device's volume button so only certain people and notifications get through. Or schedule recurring downtime like 10 p.m. to 8 a.m.
Google says with Lollipop, incoming phone calls won't interrupt what you're watching or playing. You can choose to answer the call or just keep doing what you're doing
NEW QUICK SETTINGS
Google has added two new most frequently used settings with just two swipes down from the top of the screen. One is flashlight and another is hotspot.
CONNECTIVITY
With Improved network handoffs, your video chat or VoIP calls won't be interrupted as you leave the house and switch from your home Wi-Fi back to cellular. Improved network selection logic makes your device connect only a verified internet connection on Wi-Fi. It also has a new BLE peripheral mode.
68+ LANGUAGES
Google has added following 15 new languages
Basque, Bengali, Burmese, Chinese (Hong Kong), Galician, Icelandic, Kannada, Kyrgyz, Macedonian, Malayalam, Marathi, Nepali, Sinhala, Tamil, Telugu.
RUN TIME AND PERFORMANCE
Google explained it as "ART, an entirely new Android runtime, improves application performance and responsiveness up to 4x performance improvements, smoother UI for complex, visually rich applications, compacting background apps and services, so you can do more at once.
Support for 64 bit devices that brings desktop class CPUs to Android.  Support for 64-bit SoCs using ARM, x86, and MIPS-based cores. Shipping 64-bit native apps like Chrome, Gmail, Calendar, Google Play Music, and more. Pure Java language apps run as 64-bit apps automatically".
ANDROID TV
You can personalise recommendations for content like movies and TV shows with less browsing. There's a Voice search for Google Play, YouTube and supported apps. You can enjoy console-style Android gaming on your TV with a gamepad and cast your favorite entertainment apps to your big screen with Google Cast support for Android TV devices.
THIS ISN'T ENOUGH
The curiosity doesn't end here. You can easily manage multiple payment apps by Tap & pay. It supports print preview and page range support. Where supported by the hardware, your device will wake up as soon as you pick it up or tap the screen twice.
Most importantly, Android Lollipop will make its debut on the new Nexus 6, a big-screen smartphone from Motorola; the Nexus 9, an 8.9-inch tablet made by HTC; and the Nexus Player, a $99 media-streaming box with Android TV, the first one with Google's novel home entertainment platform. The company has confirmed that Lollipop is coming to the Nexus 5, Nexus 7 and Nexus 10, as well as Google Play edition devices, in the coming time.
May this be enough to go for a new version of Google Android 5.0 Lollipop.

Go and grab it!