Aamir to donate Rs.1.1 mn for Mumbai film fest
|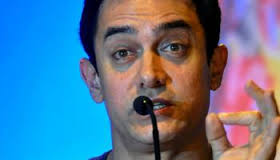 Bollywood actor-producer Aamir Khan Thursday said he is donating Rs.1.1 million towards supporting the Mumbai Film Festival, which is facing a funds crunch for its forthcoming 16th edition this year.
"Hey guys, the Mumbai Film Festival 'MIFF' needs our help. I'm donating 11 lakh. It would be really great if all of you came forward and donated as much as you can to make it happen! Thanks. Love. a," Aamir posted on his Facebook and Twitter page.
Aamir has joined a list of cinema lovers who have come forward to save the fest, organised annually by the Mumbai Academy of Moving Image (MAMI).
MFF director Srinivasan Narayan is glad that the efforts are finding support from actors of Aamir's stature.
"We hope all the Khans of Bollywood do the same. We are thankful that Aamir has tweeted about donating the sum and he has also asked others for support. We met his wife Kiran Rao yesterday (Wednesday), but we didn't know that this (the donation) was coming," Narayanan told IANS over phone from Mumbai.
The organisers are yet to receive the donation, but Narayanan said: "The moment he (Aamir) says he's donating, it's a commitment."
An online social campaign #pledge4MAMI has helped the MFF organisers gather steam in their endeavour to raise the required budget of Rs.5 crore for the film extravaganza, scheduled to be held Oct 14-21.
"We have so far managed to raise around Rs.2 crore. The festival will happen 100 percent, and we're sure we will be able to manage the rest of the money. We are hoping to raise the amount by Monday (Sep 8)," he added.
Filmmakers, including Rajkumar Hirani and Vidhu Vinod Chopra, have also provided financial aid to ensure that the fest features on the city's cultural and festival calendar.
Cinestaan Film Company, promoted by Anand Mahindra and Rohit Khattar, has committed Rs.60 lakh to the fest, the future of which seemed bleak only a few days back due to lack of sponsors and funds.
Manish Mundra, Vivek Kajaria, Nilesh Navlakha, Hansal Mehta and Anupama Chopra are also among the many others who have turned guardian angels for the festival.
With the end of a five-year-long partnership with Anil Ambani's Reliance Entertainment, the organisers have been on the lookout for a title sponsor and additional funds.