KALPANA CHAWLA – STILL ALIVE IN OUR HEART
|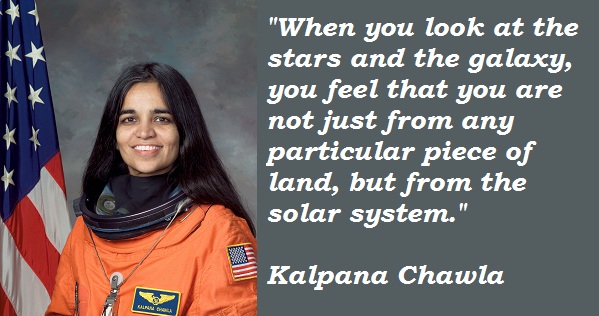 Kalpana, that means 'imagination', justified the meaning of her name.
She showed us that possibilities that are infinite, like space. Her courage and boundless imagination made her live an impossible dream she dreamt of. She was the first Indian-American astronaut and first Indian woman in space.
BORN: 17 March, 1962, Karnal, Haryana, India.
DIED: 1st February, 2003, Texas, US.
SPOUSE: Jean-Pierre Harrison.
PARENTS: Banarasi Lal Chawla, Sanjyothi Chawla
SPACE MISSIONS: STS-107, STS-87
EARLY LIFE
Kalpana Chawla was born in Karnal, India. Her family used to call her "Montu". Her family had to migrate from Pakistan after partition. Her father was involved in a variety of trades such as manufacture of steel chests, a cloth store, and a tyre factory. Her mother always encouraged her for her achievements.
EDUCATION
Schooling: Tagore Bal Niketan School, Karnal
         Dayal Singh College, Karnal and
         DAV College for Women, Karnal.
She was academically brilliant all through her school days.
Graduation: Bachelor of Science degree in Aeronautical Engineering, Punjab Engineering College, Chandigarh in 1982.
She was the first girl ever to enrol in the Aeronautical Engineering course.
Post Graduation: MSc. in Aerospace Engineering, University of Texas, USA in 1984.
Doctorate: Doctorate of philosophy in Aerospace Engineering, University of Colorado in 1988.
CAREER
She started her career as Research Scientist in the Computational Fluid Dynamics Group at NASA Ames Research Centre in Sunnyvale, California in 1988. She gained her US citizenship in April 1991.
In 1994, Kalpana was selected by the NASA Astronaut Corps from Johnson Space Centre in Houston.
Later, she was assigned as crew representative to work on technical issues for the Astronaut Office EVA/Robotics and Computer Branches.
In November 1996, Kalpana was selected for the STS 87 which carried a six-member crew. She served as a Mission Specialist and prime robotic arm operator. This was her first space mission and she was the second Indian person to fly in space following cosmonaut "Rakesh Verma" who flew in 1984. The STS-87 mission ended with the safe landing of Columbia on 5 December 1997.
Kalpana was selected as a crewmember for STS-107 in the summer of 2000. She served as Flight Engineer and Mission Specialist for STS-107. Space shuttle Columbia was originally scheduled for launch on its 28th flight on 11 May 2000, but various delays ultimately pushed the launch date to 16 January 2003.
DEATH
On February 1, 2003, India lost one of its finest gems. Kalpana Chawla, an inspiration for millions of Indians, died along with six other astronauts when the Columbia space shuttle exploded over the southern United States during re-entry.
In Kalpana's death certificate, the place of death was noted as "Airspace over Texas". She was dressed in a blue NASA flight suit before the crash. Just hours before the crash she said from space:
"Doing it again is like living a dream — a good dream — once again."
 AWARDS
The Congressional Space Medal of Honor.
The NASA Space Flight Medal
The NASA Distinguished Service Medal.
MEMORIAL 
The Kalpana Chawla ISU Scholarship fund
The Kalpana Chawla Memorial Scholarship program
The Kalpana Chawla Outstanding Recent Alumni Award at the University of Colorado
Kalpana Chawla Government Medical College, Karnal
Asteroid 51826 Kalpana Chawla, one of seven named after the Columbia's crew.
On February 5, 2003, MetSat, was to be renamed as "Kalpana" was then known as "Kalpana-1". "Kalpana-2".
74th Street in Jackson Heights, Queens, New York City renamed as 74th Street Kalpana Chawla Way in her honor.
The University of Texas at Arlington, opened a dormitory named Kalpana Chawla Hall in 2004.
The Kalpana Chawla Award
NASA has dedicated a supercomputer to Chawla.
The NASA Mars Exploration Rover mission has named one of the sevenpeaks in a chain of hills as Chawla Hill.
Novelist Peter David named a shuttlecraft, the Chawla, after the astronaut in his 2007 Star Trek novel, Star Trek: The Next Generation: Before Dishonor.
Kalpana Chawla Memorial in the University of Texas at Arlington
Kalpana Chawla Planetarium in Jyotisar, Kurukshetra
The Indian Institute of Technology, Kharagpur, named the Kalpana Chawla Space Technology Cell in her honor.
Kalpana Chawla was fond of flying, hiking, back-packing, and reading. She owned a Certificated Flight Instructor's license with airplane and glider ratings, Commercial Pilot's licenses for single- and multi-engine land and seaplanes, and Gliders, and instrument rating for airplanes. She mainly enjoyed flying aerobatics and tail-wheel airplanes.
She was a powerful woman who has inspired millions of Indians. She had never died, she will always live in our heart.