Dr. Kiran Bedi – the first Indian woman IPS officer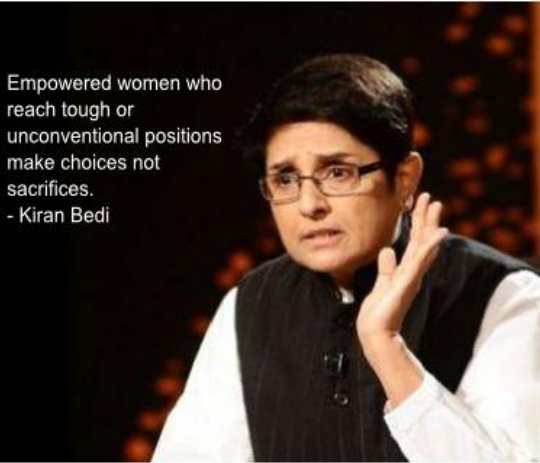 Kiran Bedi, the first Indian woman IPS (Indian Police Service) Officer who joined Indian Police service in 1972. She is currently an Indian social activist and a retired IPS ofiicer.
BORN: 9 June 1949, Amritsar, Punjab, India.
SPOUSE: Brij Bedi
CHILDREN: Saina Bedi
PARENTS:  Prakash Peshawaria, Prem Peshawaria
RANK: Director General of Police.
DEPARTMENT: Indian Police Service.
She held the post of Director General at the Bureau of Police Research and Development before she retired from the IPS in December 2007.
She has hosted and judged the popular TV serial 'AAP KI KACHEHRI'.
She has also founded two NGOs in India.
The Navjyoti Delhi Police Foundation for Welfare and Preventative Policing in 1988 (now Navjyoti India Foundation).
The India Vision Foundation for prison reformation, drug abuse prevention and child welfare in 1994.
EDUCATION:
She did her schooling from the Sacred Heart Convent School in Amritsar. She received her BA degree from Government College for Women, Amritsar in 1968. She then earned a Master's degree in Political science from Punjab University, Chandigarh. In the year 1988, she obtained Bachelor of Laws from Faculty of Law, University of Delhi. She was awarded a PhD in Social Sciences from Department of Social Sciences, Indian Institute of Technology, Delhi in 1993.
Before being famous as an IPS officer, Kiran Bedi has won many awards and championships in Tennis. Her utmost coach was his father. Some of her important landmarks in Tennis are:
Junior National Lawn Tennis Championship held at Amritsar, Punjab in 1966.
Asian Lawn Tennis Championship held at Pune, Maharashtra in 1972.
All-India Hard Court Tennis Championship in 1974.
All India Interstate Women's Lawn Tennis Championship, New Delhi in 1975.
National Women's Lawn Tennis Championship, Chandigarh in 1976.
The first-ever women's festival sports title for Delhi in 1976 bagging three gold and two silver medals.
CAREER:
She started her career as a Lecturer in Political Science at Khalsa College for Women, Amritsar. In 1972, she joined the Indian Police Service.
She has served as:
Traffic Commissioner of New Delhi,
Deputy Inspector General of Police in Mizoram,
Advisor to the Lieutenant Governor of Chandigarh,
Director General of Narcotics Control Bureau,
Civilian Police Advisor in United Nations peacekeeping operations.
She is referred to as 'Crane Bedi' for towing the Prime Minister Indira Gandhi's car for a parking violation, during PM's tour of United States at that time.
Kiran Bedi influenced decisions of the Indian Police Service, particularly in the areas of Narcotics Control, Traffic Management and VIP security. During her tenure as the Inspector General of Tihar Jail, Delhi (1993-1995), she instituted a number of reforms in the management of the prison and initiated a number of measures such as detoxification program, Art of Living Foundation Prison Courses, yoga and literacy programs.
She was last appointed as Director General of India's Bureau of Police Research and Development.
In 2007, she voluntarily retired from the police force to undertake new challenges in life.
In 2014, Bedi expressed her desire to serve the country in the Modi lead government, by offering herself as CM candidate of BJP.
After retirement Kiran Bedi launched a new website: http://www.saferindia.com/kiranbedi
The goal of this website is to help people whose complaints are not accepted by the local police.
AWARDS:
President's Gallantry Award, 1979
Woman of the Year Award 1980
Asia Region Award for Drug Prevention and Control, 1991
Ramon Magsaysay Award, 1994.
IIT Delhi Alumni Association,1999–2000
Morrison Tom Gitchoff Award, 2001
Woman of the Year Award, 2002
Kiran Bedi honoured with UN medal 2004
FICCI Award , 2005
Mother Teresa Award for Social Justice, 2005
Transformative Leadership in the Indian Police Service 2006
Baba Farid Award 2007
Zee Astitva Award 2007
Public Service Excellence Award 2007
Amity Woman Achiever for Social Justice 2007
Amity Woman Achiever for Social Justice 2007
Suryadatta National Award 2007
The Indian society of Criminology 2008
Lifetime Achievement Awards ( Bank of Baroda ) 2008
Pride Of Punjab April 2008
Women Excellences Awards 2009 ( Aaaj Tak )
Star Pariwar Award, 2010
Nomura Cares Award, Singapore (11th June 2013 )
L'OREAL Paris FEMINA WOMEN's AWARDS, 2014 for SOCIAL IMPACT
Certificate of Recognition, Los Angeles, State of California.
KIRAN BEDI as an Author
What Went Wrong
The fortnightly column written by Kiran Bedi in a daily, gets published as a book "What Went Wrong?". The Book published by UBS Publishers Distributors Ltd., New Delhi was released by the grandson of Mahatma Gandhi in a function organized on 6th July 2001. This book has 36 stories of people who open their heart in order to save the next victim. The book is a bestseller and has had a reprint in the first week of its release.
Government@net
Government@net was released on 5th June, 2001 by the Minister of Information & Technology, Government of India, Shri Pramod Mahajan. The book is the blueprint for ushering in a developed India. It provides a framework – political, sociological, technological and financial – to enable people, politicians, administrators and private enterprise to secure an unprecedented developmental impetus.
It's Always Possible
It's Always Possible, a book authored by Kiran documents vividly Tihar and its transformation from criminality to humanity. The book is a result of the Jawaharlal Nehru Fellowship, awarded to her in the year 1994. It has been published by Sterling Publishers Pvt. Ltd.
Regular Fortnightly / Weekly Columns
Fortnightly column in Times of India, National Daily, called What Went Wrong.
Fortnightly Column in Tribune – Called Reflections .
Weekly Column in Punjab Kesri, National Daily ( Hindi ), called Chetna.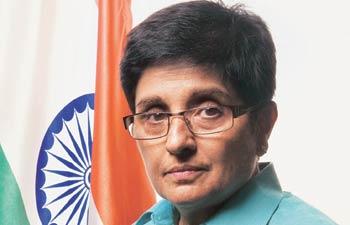 Tags:
AAP KI KACHEHRI
,
chetna
,
Director General of Police
,
Indian Police service
,
its always possible
,
kiran bedi
,
Kiran Bedi as author
,
Navjyoti Delhi Police Foundation
,
NGO
,
President gallantry award
,
Ramon Magsaysay Award
,
reflections
,
social activist
,
Tennis
,
The India Vision Foundation
,
what went wrong
,
woman IPS
,
www.saferindia.com