Categories OF KITCHEN Designs
|
ONE WAY GALLERY KITCHEN has all of these along one wall; the work triangle degenerates to a line. This is not optimal, but often the only solution if space is restricted. 
TWO WAY GALLERY KITCHEN has two rows of cabinets at opposite walls, one containing the stove and the sink, the other the refrigerator. This is the classical work kitchen.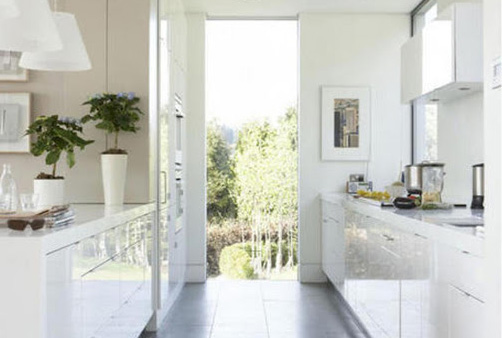 L SHAPE KITCHEN the cabinets occupy two adjacent walls. Again, the work triangle is preserved, and there may even be space for an additional table at a third wall, provided it does not intersect the triangle.
U SHAPE KITCHEN has cabinets along three walls, typically with the sink at the base of the "U". This is a typical work kitchen, too, unless the two other cabinet rows are short enough to place a table at the fourth wall.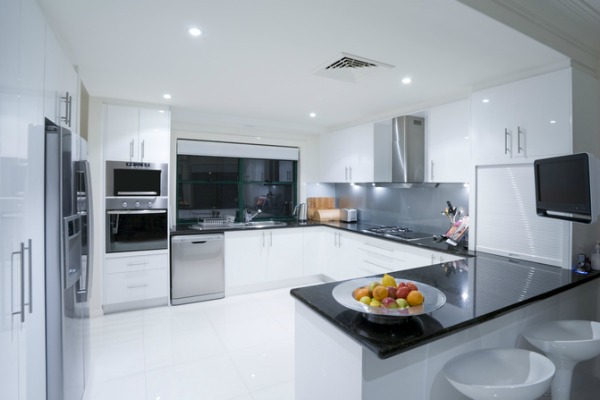 G SHAPE KITCHEN has cabinets along three walls, like the U-kitchen, and also a partial fourth wall, often with a double basin sink at the corner of the G shape. The G-kitchen provides additional work and storage space, and can support two work triangles. 
ISLAND KITCHEN is a more recent development, typically found in open kitchens. Here, the stove or both the stove and the sink are placed where an L or U kitchen would have a table, in a free-standing "island", separated from the other cabinets. In a closed room, this does not make much sense, but in an open kitchen, it makes the stove accessible from all sides such that two persons can cook together, and allows for contact with guests or the rest of the family, since the cook does not face the wall any more. Additionally, the kitchen island's counter-top can function as an overflow-surface for serving buffet style meals.
Modern kitchens often have enough informal space to allow for people to eat in it without having to use the formal dining room. Such areas are called "breakfast areas", "breakfast nooks" or "breakfast bars" if the space is integrated into a kitchen counter. Kitchens with enough space to eat in are sometimes called "eat-in kitchens".
Restaurant and canteen kitchens found in hotels, hospitals, educational and work place facilities, army barracks, and similar establishments are generally (in developed countries).